When you initially upload a song to Moises, our platform automatically adjusts the volume to 75% for optimal audio quality. However, you're not restricted to this setting. You have the flexibility to modify the volume as per your preferences, up to the original 100% if needed.
To access these adjustments, you'll find the volume control option located right below or next to each individual track. This feature enables you to alter the volume for each track independently. For example, you can amplify the bass while keeping the vocals at a lower volume or vice versa. Additionally, if you prefer to maintain the entire song at its original volume, you can simply set all tracks to 100%.
You might be wondering, "How do I make these changes?" To guide you through the process, please follow the steps outlined below:
Web or Desktop App:
Under each track, you will see a slide bar that will allow you to change each volume down or up, depending on what you wish to have from the audio.

iPad or Mobile App
iPad and Mobile can be changed too, but you will find them in a different setting. Same as the other one, you need only slide down or up to define the volume you want to edit too.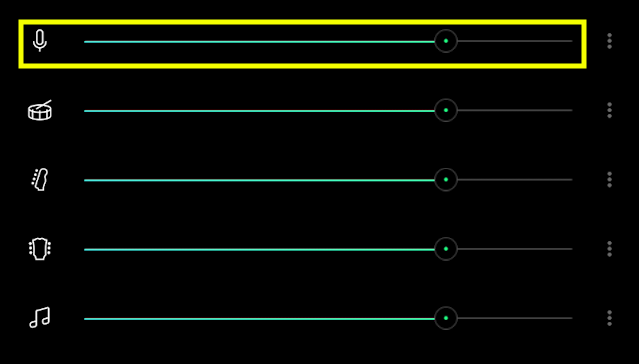 We hope this helps you achieve the perfect sound balance for your tracks. Should you have any further questions or require assistance, please don't hesitate to reach out to our Support Team.